Overcoming the economic crisis that the country has experienced since 2010, the Region of Western Greece is an attractive place for investment, and offers to its potential investors, a number of opportunities related to the Region's strategic geographical position and its unique competitive advantages.
Each Regional Unit has unique characteristics. Achaea is an area with a long and important industrial tradition, as it constitutes  the industrial and research center of the Region offering two main receptors for businesses. Etoloakarnania and Ilia are the predominantly agricultural areas of the Region which provide suitable soil for traditional agricultural products, and PDO-PGI products. At the same time, each area of the Region is a tourist destination either in its traditional or in its alternative form.
The Region of Western Greece combines unique characteristics and therefore, constitutes  a leading tourist destination in Greece. produces unique products - mainly in the agri-food sector, is an emerging regional transport center and has well-trained human resources of high scientific and technical training.
1. General Information
Region logo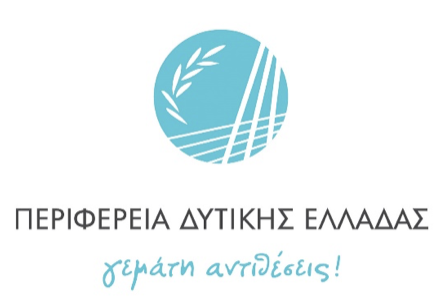 Total Area : 11,336 sq.m (6th at national level)
Regional Units: Aetolia-Acarnania, Achaea, Ilia
Capital city : Patras
Location: 38ο 30΄41΄΄ Ν, 21ο 34΄14΄΄ Ε, northwestern part of Peloponnese and western part of Central Greece
Climate: Mild winters and hot summers in  lowlands and cold winters and cool summers in mountainous areas
Geomorphology: 45.3% mountainous, 25.6% semi-mountainous, 29.1% lowlands
Altitude: Lowest elevation: Mediterranean Sea: 0m, Highest elevation: Aroania Mountains: 2,374m
2. Geographical Significance
The Region of Western Greece is Greece's gateway to Western Europe and therefore, it occupies   an important geostrategic position. It is linked to large urban centers, such as Athens and Ioannina. RWG is a region ofgreat natural resources, with a plethora  of mountains, rivers, lagoons, NATURA areas and natural monuments, while its diversity and climate are suitable for a variety of activities.
3. Population structure
Population: 655,189 inhabitants (2019), 6.1% of the population of the Territory
Population Structure by Regional Unit

Regional Unit

% share of total population

Aetolia Acarnania

30.6%

Achaea

45.6%

Ilia

23.8%
Population Structure by age group

Age group

% share of total population

<20 years

21%

20-60 years

53%

>60 years

26%
Economically active population: 282,500 (6th among all Greek Regional Units)
Birth rate: 7.63 births / 1,000 inhabitants
Main cities of the Region of Western Greece

City

Population

Patras

167,446

Agrinio

46,899

Pyrgos

24,359

Aigio

20,422

Messolonghi

12,785
4. Basic Transport Infrastructure
Railroad network:
Network of 213 km

Double line in the Kiato-Aigio section

Patras Suburban Railway

Railway connection Diakopto-Kalavryta

Tourist railway connection Ancient Olympia-Katakolo

It is anticipated that the port of Patras will be linked to the national railway network soon
Road Network:
Motorways of 235km., National network of 895km., provincial road network of 3,520km.

Patras-Athens Highway

Ionia Odos

Rio-Antirio Bridge

It is anticipated that Patras and Pyrgos will be linked through a highway soon
Main Ports:
Port of Patras

Port of Kyllini

Port of Katakolo

Port of Astakos

Port of Aigio
Airports:
Aktio Airport (Etoloakarnania)

Araxos Airport (Achaeia)

Epitalio Airport (Ilia)
Marinas:
Patras Marina

Kleopatra-Aktio Marina

Amphilohia Marina

Nafpaktos Marina
5. Main Educational Infrastructures
Main Educational Infrastructures in the Region of Western Greece

Institution

Reference Area

University of Patras

Patras, Amaliada, Agrinio, Messolonghi, Pyrgos, Aigio

University Campus,

Rio Achaea, Post Code: 26504

University of Peloponnese

Patras

1 Meg. Alexandrou Street,  Patras, Post Code: 26334

Hellenic Open University

Patras

18 Par. Aristotelous Street,

Patras, Post Code: 26335
6. Main Organized Business Hubs
Main Organized Business Hubs in  Western Greece

Hub

Reference Area

Patras Industrial Area

Patras

Kato Achaghia, Post Code: 25200

Glafkos Craft Park

(Patras)

Patras

Glafkou,
 Patras, Post Code: 26332

Patras Science Park

Patras

Stadiou, Platani
Post Code: 26504
7. Technology in the Region of Western Greece
Internet Use of RWG: 70.3% (5th among the 13 Regional Units)

36% users for more than 11 years

511,702 with broadband connections

407,020 inhabitants (16-74 years) have

 

online connection

Percentage of employees in High Technology Sectors, engaged in the primary sector: 27.4%

Percentage of Businesses with Internet connection: 82%